Wednesday, June 23, 2021
Europe continues to re-open to visitors from the U.S.!
Open once more... AUSTRIA!
Tuesday, June 8, 2021
Norwegian Cruise Line is getting ready to set sail from US ports once again! They have now announced departures from FLORIDA to the Caribbean and The Bahamas;
departures from WASHINGTON for roundtrip Alaska sailings; departures from CALIFORNIA for the Mexican Riviera; and HAWAII's inter-island sailings resume this November from Honolulu! All available to book now.
• Norwegian Encore will operate 7-day cruises to ALASKA from SEATTLE sailing every Saturday from Aug 7, 2021, through Oct 16, 2021.
• Norwegian Gem will operate 7-day cruises to the Western Caribbean FROM MIAMI sailing every Sunday from Aug 15 through Aug 29, 2021, and a 4-day Bahamas sailing Oct 17, 2021.
• Norwegian Escape will operate a 7-day cruise to the Eastern Caribbean FROM PORT CANAVERAL sailing on Nov 13, 2021.
• Norwegian Breakaway will operate 7-day cruises to Bermuda FROM NEW YORK CITY sailing every Sunday from Sept 26, 2021, through Oct 17, 2021.
• Norwegian Bliss will operate a 7-day cruise to the Mexican Riviera FROM LOS ANGELES sailing on Oct 24, 2021.
• Pride of America will operate a 7-day inter-island cruise of the Hawaiian islands round-trip from HONOLULU sailing on Nov 6, 2021.
Labels: Alaska, Bermuda, Cruise Vacations, Family Vacations, GO: Discover the USA, Hawaii, Make Memories, Mexico, Norwegian Cruise Line, Summer Vacation, Take The Trip, The Caribbean
Friday, June 4, 2021
ROYAL CARIBBEAN ANNOUNCEMENT!! The wait is over as cruising from the U.S. is just around the corner!
3-5 NIGHT CRUISES:
** FREEDOM OF THE SEAS® -- from Miami, Florida, starting July 2, 2021 (NOW OPEN FOR SALE)
** MARINER OF THE SEAS® -- from Port Canaveral, Florida, starting August 23, 2021 (NOW OPEN FOR SALE)
7-NIGHT CRUISES:
NEW! ODYSSEY OF THE SEAS®-- from Fort Lauderdale, Florida, debuting July 3, 2021 (NOW OPEN FOR SALE)
ALLURE OF THE SEAS® -- from Port Canaveral, Florida, starting August 8, 2021 (NOW OPEN FOR SALE)
SYMPHONY OF THE SEAS® -- from Miami, Florida, starting August 14, 2021 (NOW OPEN FOR SALE)
Wednesday, May 5, 2021
How about some golf and incredible views this summer along with complimentary golf, greens fees, and transfers? There are some terrific inclusions available at Sandals in both The Bahamas and St Lucia. Check it out, and then let's chat to get you booked!
https://tinyurl.com/GolfwithaView
Labels: Adults-Only Experiences, Experiences We Can Book For You, Golf Vacations, Island Living, Promotional Offers, Sandals & Beaches, St Lucia, Summer Vacation, The Bahamas, The Caribbean, Travel Agent
Tuesday, May 4, 2021
You can reclaim your summer cruise vacation with
Cruising's Big Comeback! Join us for an informational webinar this evening at 6:00 pm Eastern. You can register here:
https://tinyurl.com/ReclaimYourSummer
Labels: Celebrity Cruises, Covid-19, Cruise Vacations, Family Vacations, Norwegian Cruise Line, Promotional Offers, Royal Caribbean, Summer Vacation, Travel Agent, Vacation Plans, Viking Cruises, Where2Next
Friday, April 16, 2021
Suggested Itinerary:
NORTHERN RAIL EXPERIENCE
Venture from the breathtaking great plains of the Midwest to the serene waters of the Pacific Coast on this scenic rail journey from Chicago to San Francisco, with a stop in Seattle. Enjoy the landscape as you travel along major portions of the Lewis and Clark trail. Explore Seattle on a hop-on, hop-off sightseeing tour. Discover the sights of San Francisco. Spend some quality time in two majestic parts of Northern California: Muir Woods and Sausalito. And, then you'll head back to the "Windy City" onboard one of the most beautiful train trips in all of North America.
HIGHLIGHTS:
- Hop-on, hop-off sightseeing tour of Seattle
- Hop-on, hop-off sightseeing tour of San Francisco
- Sightseeing tour of Muir Woods and Sausalito
- Sightseeing cruise in San Francisco
WHAT'S INCLUDED?
- One-way Amtrak® from Chicago to Seattle on the Empire Builder®; Seattle to San Francisco on the Coast Starlight®; San Francisco to Chicago on the California Zephyr® in Coach accommodations
- 4 nights' accommodations; 5 nights onboard Amtrak
- 1 meal included (1 dinner)
Departures available most Thursdays March through November. Reverse itineraries also available.
You can absolutely upgrade the experience with sleeping accommodations, pre and/or post hotel stays in the departure city.
Intrigued? Ask me! I love helping people get out & explore with land-based vacations and rail vacations!
Tuesday, March 9, 2021
Itching to travel but not yet ready to go too far? Want to have some beach & fun? Then be sure to visit the state where the sun always shines: Florida! You'll never run out of activities and adventures in this tropical paradise. From the beautiful beaches to the amazing theme parks; the awesome natural wonders to the cultural and culinary delights; from the links to the clubs...Florida has something for everyone year-round!
Whether you're thinking of staying in a lush tropical resort, beach condo, a cute bungalow somewhere near the water, or at one of the many incredible vacation homes available to rent, I can help!
Or perhaps you want more thrills and fun at Universal Orlando or Walt Disney World...I can help with that too. Don't let the agency name fool you...we are SO MUCH MORE than simply cruises.
I love helping people find amazing adventures and experiences to create memories for a lifetime through land vacations, as well as cruises. Want to know more? Just ask!
Saturday, February 27, 2021
SAND AND WATER!
If your dream vacation includes plenty of sun, sand, and water…we've got a wide range of great options for you across the country! How does overlooking the water sound? Or being just down the road from the saltwater with your own freshwater pool or hot tub to enjoy when not at the beach. Whether a condo, vacation home, bungalow, or luxury villa at or near the beach is your idea of the perfect vacation, then reach out and give us the opportunity to help you plan it this year. From simple to complete luxury we've got connections for 1, 2, 3, 4, 5, 6 bedrooms, and depending on location, even more!
You might only think of us as just a cruise agency because of the name, but we truly are SO MUCH MORE THAN JUST CRUISES!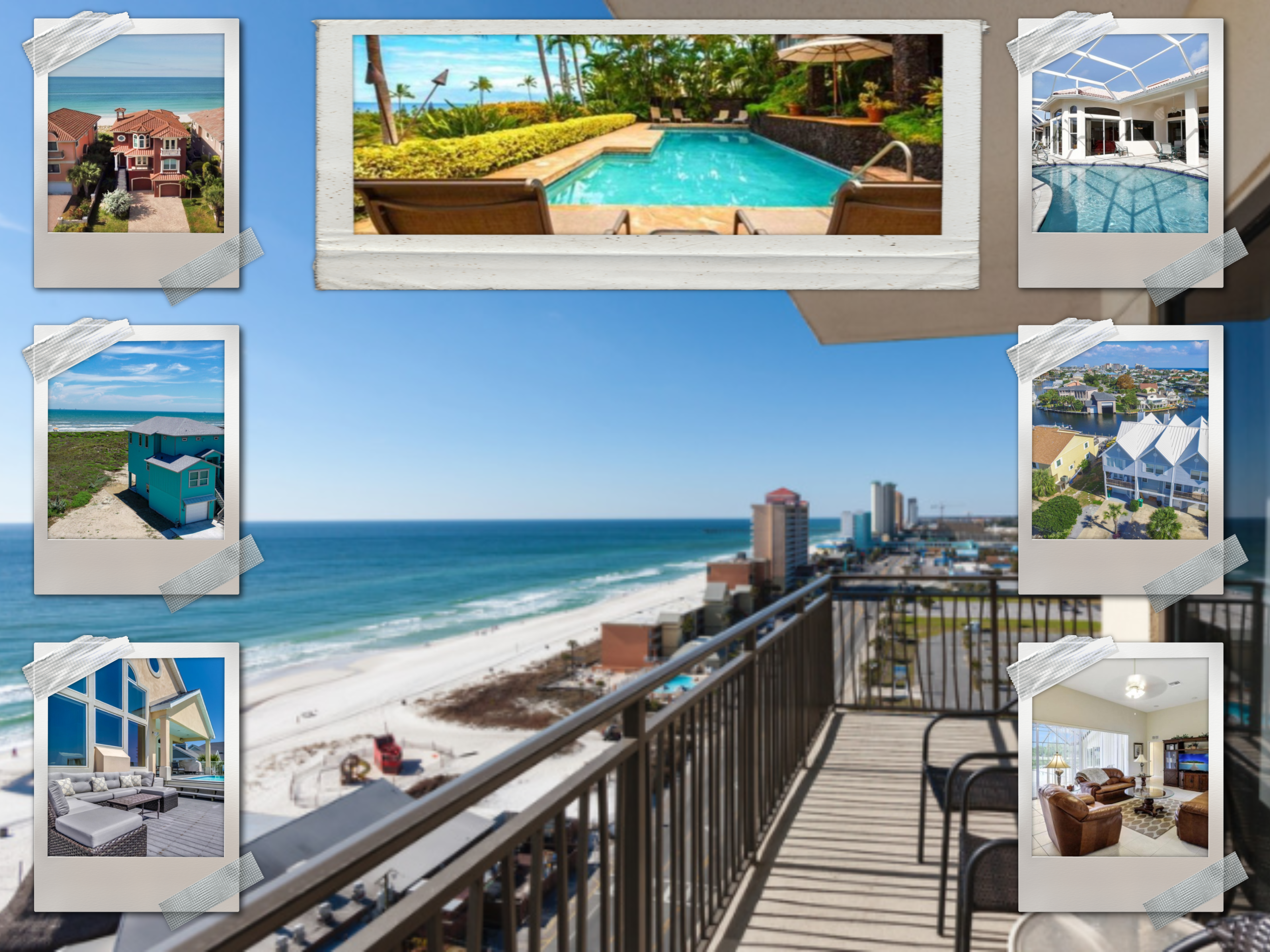 Here's just a sampling of where we can find a beach vacation rental for you:
Hawaii | Myrtle Beach | Naples | Cape Cod | Santa Barbara | Destin | Holden Beach | Gulf Shores | Pismo Beach | Sanibel | Port Aransas | Clearwater | Hilton Head | Panama City | Newport Beach | Marco Island and many more
Intrigued? Ask us! We love helping people get out & explore with land-based vacations and vacation rentals!
#travel #adventure #tourism #vacation #exploremore #supportsmallbusinesses #travelagent #theinternetisforlookingbuttravelagentsareforbooking #getbacktonature #beachgetaway #beachvacation
Tuesday, February 2, 2021
Saturday, January 28, 2017
It was a very long day here in NYC booking great vacations for people! Hot topics of the day included Alaska, Bermuda, Sandals resorts, and European River cruises. I'm excited with the results thus far and looking forward to another great day tomorrow. After the show, it was great to eat in one of my favorite places here in the city - Junior's Restaurant, where I enjoyed an enormous roast beef sandwich. After such a big meal, the cool night air feels great as I walk back to my hotel for a little rest before the show starts again tomorrow. Good night from Times Square!
Labels: Alaska, Bermuda, Europe, Events & Travel Shows, New York City, River Cruises, Sandals & Beaches, Summer Vacation, Travel Agent, Travel Planning, Vacation Plans
Sunday, January 22, 2017
Time for another great day at the Chicago Travel & Adventure Show! Cuba, Europe, Cruises, Walt Disney World, and Hawaii, plus a Destination Wedding were all the hot topics yesterday...excited to learn where else I can send today's guests. If you're local, come see us! Next weekend is New York City. It's (always) the vacation booking season!
Labels: Cuba, Destination Weddings, Europe, Events & Travel Shows, Hawaii, Illinois, Ocean Cruises, River Cruises, Summer Vacation, Travel Agent, Travel Planning, Vacation Plans, Walt Disney World
Friday, July 27, 2012
We just got home a couple of days ago from another terrific and memorable trip to Walt Disney World.
Was I sad to leave?
Always.
But as I tell me kids time and time again, all good things come to end.
And so yes, this trip ended as well, and we had to come home once again.
Was it nice to sleep in my own bed again?
You bet.
I always love sleeping in my own bed again after being gone.
There's just something about sleeping in your own bed, you know?
Despite all of the dozens of times that I have been to Walt Disney World (and yes, it's close to five dozen times), this trip was full of quite a few "firsts" for us – both collectively as a family, and for me personally as an individual.
Driving my own car at Walt Disney World was – in a word – trippy.

I have driven rental cars all over the place multiple times there, but never before had I driven my own Jeep there.

Growing up in Southern California, driving to Disneyland was no big deal… but driving to Florida?!?

Something we had never, ever done before.

You have to understand that long car rides… just not something we've done much of since the kids were very little.

It's true our kids have visited 26 states, but most of

those trips were taken when they were a lot younger.

Thinking about it, they've been on planes nearly as many times as I've been to Walt Disney World.

My oldest son was part of the driving crew!

Yikes.

He drove about 6 hours on the way down to Florida, and about 6 hours on the way home.

Again, in a word… trippy.

We spent a lot of time in the pools… I mean a LOT of time.

We were there just about every single day.

This is so not like us.

While we enjoy the occasional dip, we are just not pool people.

And spending hours at the pool – at Walt Disney World – has just never been something we've done.

Sure a dip here, maybe there, once or twice during a visit – but never every single day – until now.

Very trippy.

We enjoyed a pool-side movie.

Fancy that.

I've talked about them here in my blog previously, and told many people about them – but we've never experienced one for ourselves.

We watched "Finding Nemo" while enjoying the pool at Kidani Village.

Huh.

Trippy.

Not going into the theme parks, of course, meant no theme park meals.

We planned to avoid the theme parks all along – but we also ended up not planning any table service meals at all.

So NO ADR's for this trip.

That was different.

Kinda trippy.

We did end up going to BOMA, thanks to a mix-up on the resort's part and the subsequent "we messed up" gift card, but we didn't plan that in advance.

I did arrange a reservation for us 2 days in advance – but again – trippy, since the typical long-term "ADVANCED" in ADR was absent.

Most people don't make ADR's 2 days in advance.

We did not buy souvenirs on this trip.

No pins.

Nothing.

We've been so often, there really was no need to bring more of the same old crap home.

While I was pleased to see some new resort-specific merchandise in the shops, there really was nothing that made me say "I've GOT to have that."

So the wallet stayed in the pocket, and came home no worse for the wear.

Trippy.

I almost always come home with something.
We took our daughter over to the Tri-Circle D Ranch at Ft. Wilderness to check out the horses. Sadly she was 3 inches too tall to be able to ride the ponies, despite being within the age and weight range. Sigh. The tears only lasted a few moments, and then she was happy to at least be able to pet them.
In the Cars section of Art of Animation
The new DVC resort under construction
I took the family over to explore new resorts that they had not yet seen - such as the all-new Art of Animation Resort and the Yacht and Beach Clubs - and from a distance we saw the progress being made on the new DVC resort, the Villas at the Grand Floridian, currently under construction.
Kinda trippy doing things with them, that I've done numerous times before on my various solo research trips.
We did NOT sit and watch Stacy!

We did watch "I Love Lucy"

- in fact numerous times, as it was requested by my daughter numerous times as we scrolled through the on-screen listings menu. Anytime she saw it, she would shout out for Lucy! (I love that girl... she loves Lucy almost as much as her daddy does.) Sitting and watching television while at Walt Disney World has never happened before... except to sit and watch Stacy.
We enjoyed the

Kitchen Sink

at

Beaches & Cream at Disney's Beach Club.

Finished it, too (well, we did leave some melted ice cream mixed with about 7 or 8 cherries in the bottom that my son kept calling primordial soup… but otherwise, we finished that monstrosity!)

If you've never experienced it for yourself, or if you've never even heard of the Kitchen Sink… let me elaborate just a bit for you.

It's 8 scoops of ice cream, topped with EVERY kind of topping they have, plus a whole can – yes, I said it – a WHOLE CAN of whipped cream.

It's ghastly – yet fun – in a trippy sort of way.

The toppings alone amazed me.

The menu made it seem like just the standard liquid topping variety – but OH NO – there were cake bits, brownie pieces, pieces of candy bars, bananas, pineapple, candied fruit, nuts, and probably an entire jar of cherries, since each of my three kids had at least 6 to 7 cherries apiece (plus those 7 or 8 left in the bottom of the dish).

Crazy.

Fun.

DEFINITELY memorable.

But not something that we need to do again.
We enjoyed spending some time (albeit just an hour or so) with friends from another state

, who checked in while were at the World! In the same resort that we had just checked out that morning no less! (Long story short but due to a relatively last-minute change of plans, we had to change resorts for the last couple of nights of our trip - but it was a blessing in disguise because the original plans would have had us leaving WDW 2 days prior to Mark & Julie's arrival... this way we got to visit with them after all!). Prior to checking out we were joking that they might even end up with "OUR" room at Kidani Village (sadly, no dice, they ended up on the OTHER end of the savannah). Encounters like that do seem to make the famous (and often famously maligned Sherman Brothers song from that iconic Fantasyland attraction ring true - it IS a small world after all!).
We got to watch Wishes from the Top of the World Lounge at Bay Lake Tower! Not being BLT point owners, and not having stayed at that resort - we have not had the usually exclusive pleasure of experienced this perk previously. But since it was made available for a "limited time" to any DVC owner staying on points at any DVC resort, we decided to head on over and see if we could get in and watch from there. Knowing the Top of the World has limited space, we weren't sure if we would get in or not, but tried anyway. We were told guests could arrive as early as 6pm, but Wishes wasn't until 10pm. No way were we going to sit over there for that long. We arrived at 9pm, and figured if we couldn't get in, we'd simply ride the Monorail over to the Polynesian and watch from the beach (something else we've never done). But we got in with no problem. All told, when the fireworks began - the Lounge was probably little more than half full - so there was no need to stress about it at all. Other nights it might have been more crowded - but our night - not at all. A big bonus right there! As a show, Wishes, to me, is very stale and needs to be replaced (especially after watching two different far-superior fireworks presentations at Disneyland in the years since Wishes was first rolled out, and were created after Wishes by the same dude who created Wishes in the first place... it's time Steve Davison to put your fireworks focus back on Walt Disney World!) - but I digress, enough to say that it was fun to experience it from a new vantage point - especially to see how truly far behind the Magic Kingdom the shells are actually shot up from. The show does lose a LOT in the translation when not watching it from within the confines of the Magic Kingdom - BUT it was fresh and new watching it from the 16th floor of Bay Lake Tower. Despite being stale to me, it was a great

final night bit of fun for all of us.
We went in JULY.

For any of you following along who have ever read any comments I have made on the DIS, or any other online spot I may have commented… we do NOT like the heat and humidity of Florida in the Summer time.

I have avoided it like the plague – until this year.

When we realized that this 10 day period of the summer was pretty much the ONLY time during the entire summer that all five of us would be "home" at the same time – and not off on some Scout, Church or other outing.

So way back in February we decided that the only way to protect that time – and give us the much-desired family time that we needed – was to effectively get "out of dodge" and enjoy our timeshare.

That way none of us would be tempted to respond to the various text messages, phone calls, Facebook posts or Tweets that would come around saying – "COME…. Do this, that or whatever else...."

By being 900 miles away from all of that – we could have that coveted family time.

It was a wise choice.

We enjoyed spending time together, reconnecting, being silly, playing games and just hangin' out together.

Very, very trippy.

I highly recommend taking your own family doing something similar – especially when the busy-ness of the teen years creep in and overtake your household!

With one super active teen, one getting more and more active all-the-time teen, one slightly busy pre-teen and two busy parents – we must SCHEDULE this kind of time in order to capture it – at all.

Otherwise this friend, that friend, this activity or that activity WILL overtake one or more family member each and every week.
It's crazy – but it will all change in just two short years when our eldest leaves for college – followed a couple of years later by our middle son, and then it will all come crashing down in just a few short years when the last of the kids is off on her way to college. It's very trippy how all those years ago when the boys were but wee ones people would exhort us to "enjoy this time while it lasts" – we were so full of ourselves thinking it would last longer than it actually does. And here we are – with a son driving us to Walt Disney World, getting ready to start his Junior year of high school and the college information keeps coming in the mail each and every week. Trippy is definitely an understatement for the week that we experienced – but even more appropriate for the short 16 years that have literally flown by. Now to start figuring out which week will be the "one week" next summer so that we can hopefully do it all again…